When I think of family traditions, the movie "Fiddler on the Roof" is the first to come to mind. Growing up, it was one of my dad's favorite movies and plays. I remember him singing the Tradition song all around the house. Waving his hands and doing the fiddler jig — it was quite entertaining to my sister and me.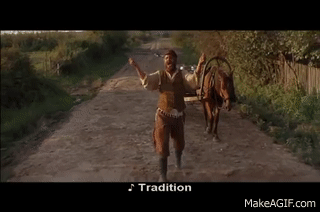 Today, our traditions might not be as severe as an arranged marriage, but we have family traditions whether we are aware of them or not. What I've learned is it's essential to intentional with the kind of traditions we want to create, keep, or do away with.
Years ago I attended a seminar about traditions and the vital role they play in our families. They are a powerful component of a family's culture and an important part of solidifying relationships. Traditions create lasting emotional bonds and project certain energy in shared events and memories. So what is it about a simple tradition, like decorating Christmas cookies, that has been proven to be so valuable to our families?
What is a Tradition?
By definition, traditions are the things we do over and over again to help us hand down information, beliefs, and behaviors to the next generation. They are often unique to individual families. Traditions can also be a conscious choice to begin doing something new on a regular basis.
Traditions are a powerful component of a family culture. We call them the glue that holds families together. Traditions create lasting bonds and a certain energy that is shared not only during the event but in the memory of it too!" —Linda Eyre
The Value of Family Traditions
When I was invited to be a part of a collaborative effort by Kim At Home, she had asked me to write about how to build a gospel-centered home. As I thought about what I would share my mind was drawn to the value of traditions. Specifically, lessons learned in the scriptures because of the traditions of their fathers. Those traditions — good or bad —seemed to be a determining factor in where the hearts of the children ended up. Did they love God? Or did they love the world?
Research has shown family traditions to have a proven benefit to solidifying family relationships. Here are just a few things the study of traditions has taught us:
⇒Provides security and a sense of belonging.
⇒Offers stability and order.
⇒Promotes healthy relationships between generations.
⇒Teaches practical skills.
⇒Help us to make sense of the passage of time.
⇒Serve as an avenue for creating lasting memories.
⇒Connects us to our past.
⇒Contributes to our identities.
⇒Helps us cope with loss and trauma.
⇒Traditions help reinforce our values.
⇒Provide us with opportunities to communicate.
Intentional Traditions
I will be the first to admit we made many mistakes while raising our family. We were far from perfect, and somehow the kids turned out okay. Early in our marriage, we determined to be intentional in our traditions. We were sure to include a good mix of purposeful and fun as we looked at what we wanted to carry on from previous generations and what new traditions we wanted to start together.
We made intentional choices about what traditions would invite the spirit into our home, teach important values and beliefs to our children, and reinforce family bonds. Here are just a few of our simple, yet intentional family traditions:
⇒Daily Family Prayer and Scripture Study
⇒Sabbath Day Observance
⇒Weekly Family Time — Family Call
⇒Eating Dinner Together
⇒Special Birthday Breakfasts
⇒Loyal to What Matters Most
⇒Special Handshake with Dad
⇒Family Motto — Stay on the Trail
⇒The First Day of School Photos
⇒Stories Around the Campfire
Your traditions may be different from ours, but we found regular family prayer and scripture study to be key as well as making time for fun family activities. The important thing to remember is, to begin with, the end in mind. Where do you want your family to be in 10 or 15 years?  What changes do you need to make in your family traditions today to become the kind of family you'd like to be?
Christmas Traditions
Family traditions during the holidays have a powerful impact because of the way they stick in our memory. Holiday traditions are a way to build strong family relationships between generations. Here are a few ideas for how our Christmas traditions have brought our family together.
25 Days of Christmas Stories
The first day of December marked the beginning of our 25 days of Christmas stories. Each night before bed we would read one together. I would get busy and sometimes forget, but the kids were always quick to remember to pull out the book of Christmas stories. This year I recreated the book for them to share with their own families. I asked them which were their favorites and it was so tender to hear their individual stories about how this family tradition had affected them growing up. The stories brought the real meaning of Christmas to the holiday making it a treasured memory.
If you'd like a copy of our Christmas stories, you can download the printable below.
Christmas Jammies
Christmas Eve wouldn't be complete without our traditional Christmas Jammies. This tradition began with my grandma and may go back even further. Each Christmas Eve we had one present to open, and it was always from grandma. She made each of her grandchildren a new pair of jammies each year, and it was our tradition to open them Christmas eve. Today those jammies usually come from the store, but it is a tradition we see our children looking forward to with their families.
Christmas Ornaments
Another tradition we have is to give each of our kids a Christmas ornament each year depicting a certain milestone. One year it might have been a ballerina when they took ballet lessons, or a soccer player when they played soccer. The coveted driver's license ornament was one they all looked forward to receiving. Each year as we decorated the tree they would pull out their special ornaments, and we would remember the story behind the decoration. Now as our children are grown and starting families of their own, they have taken their special ornaments to share with their budding new families. And the tradition continues.
Light The World
Another fun way to bring the true meaning of Christmas into the entire month of December is to participate in meaningful service and self-reflection. For the last several years we have been a part of the Light the World campaign — choosing to #LightTheWorld with service. Each year they provide a month-long calendar packed with ideas to give as Jesus gave. Most ideas don't cost anything more than a little bit of your time.
What are some of your Traditions?
As our families grow, sometimes our traditions change. The important thing is to get together and share memories, pass on traditions, and teach family values. When we become intentional in the way we spend time together, we not only reinforce family traditions but strengthen our most precious relationships.
What family traditions have benefited your family? I'd love to hear about it in the comments below.
Why Family Traditions are Proven to be so Valuable